BREATHING WALLS: live performance
While Songs for the Breathing Walls was conceived as a recording project, it makes for an uplifting, spiritual performance as well. Most recently, I have had the pleasure of presenting this program in Cedar Rapids for Legion Arts (November 2015). The performance includes songs from the CD (all Hebrew liturgy), usually accompanied by several (or all if feasible) members of my Fray ensemble, and myself on piano and guitar. Some songs, prayers, are a cappella, others are rousing and upbeat. There is a visual component: video projections based on photographs from the Czech and Moravian synagogues where the project was created.. 
"Breathing Walls" concert is suitable both for the concert hall, a synagogue chapel,  or another spiritual space. It has been performed also acoustically in both synagogues and churches. 
CRITICAL ACCLAIM:
Songs for the Breathing Walls, recording project, was honoured with 2012
Canadian Folk Music Award
for Traditional Singer of the Year, and 2013 Independent Music Award for World Music Album - Traditional, Vox Populi. As well, the album received a number of spectacular reviews from UK, Canada, Germany, U.S., Czech Republic and more. Please se 
press
 for some of the 30+ reviews.  
Please click
here
to read review by David Farrell,
New Canadian Music:
"...Over 72 minutes of ethereal, sometimes hypnotic Jewish liturgical poems and prayers that are blended with Arabic, Jewish and Celtic arrangements. LL has a world compass, an enviable rep and savvy marketing instincts that match her exceptional talents. Obviously this has a niche audience, but a niche that stretches from here to eternity. Buy."
Read an informative, thoughtful and sensitive feature article by Renee Ghert-Zand
here
Songs for the Breathing Walls: now available!
Preview all 17 tracks HERE: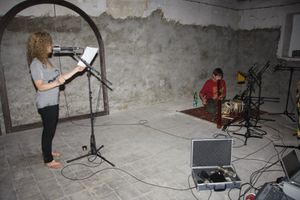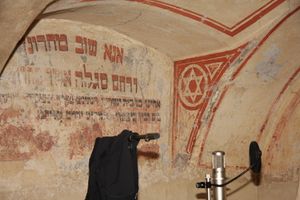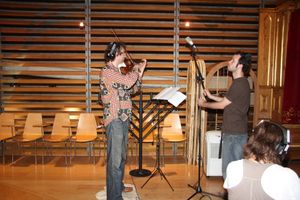 NOTES from 2012...

About the project:

"Songs of the Breathing Walls" - possibly the most significant project I may ever undertake - is now all recorded, edited, mixed –  17 tracks. It has taken me over 2 years to get to this point. The idea came to me in 2009, when I happened to have concerts in two Czech synagogues, Plzen and Liberec. The two places could not be more different. One carried its past in its old walls, which seemed to be communicating with me, and the other was a lovely new edifice built in place of a synagogue burned to the ground on Kristallnacht. Again, I could feel the past despite the new walls. The acoustics and atmosphere in each were so remarkably different, their "personalities" as well. The places felt so alive, their sadness so real… Falling asleep on a bus back to Prague, I got an idea… to connect with, and pay tribute to the disappeared communities that built these places, and filled them with their lives, their rites of passage, their ritual, music, hopes and longing. These people linger still; that is what I was certain of, singing. I decided to create a project: recording a piece of liturgy in such synagogues, each piece representing the unique personality, spirit of the synagogue, and in some remote, sweet and naïve manner, those disappeared communities as well, through listening to their voices still breathing in the walls.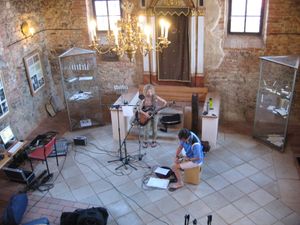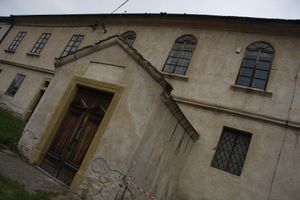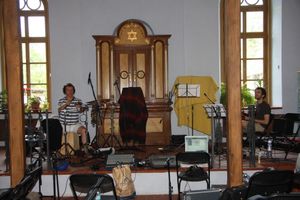 The idea became reality between July, 2010, and July, 2011. Most of the 12 synagogues – 9 Czech and 3 in Moravia- are places where there are no longer any Jewish people at all. During the Holocaust, these places were nearly destroyed, used as storage rooms, garages, barns… all the way up to the "Velvet Revolution" of 1989. Today, some are museums, some are lovingly restored, mostly through the generous support of international organizations and the EU, administered by the Czech Jewish Federation.
The recordings involve various groupings of instruments, from just voice and violin or oud, to a didjeridoo, sitar, and a 4-piece ensemble. The artists that worked with me are exceptional musicians… please see the list below. One of them was Yair Dalal... he plays the restored violin of an artist who perished in Auschwitz (Project Hope), and the oud. Some of the liturgy that we recorded is traditional, some are my own compositions, and those of four other Toronto composers. The places embrace, carry and uplift the music, and the music thankfully acknowledges this exchange. You could almost touch this cycle. It is mostly very intimate, even sublime, moving, and occasionally it also "rocks"  :-) ... We also recorded in the "hidden" synagogue in Terezin, where my mother's family was incarcerated. I recorded Eil Malei Rachamim (Prayer for the Departed) there, voice and violin. This was a tough one.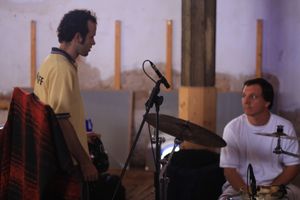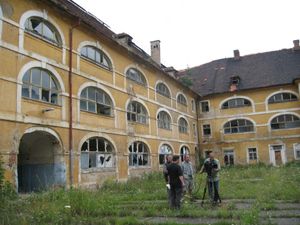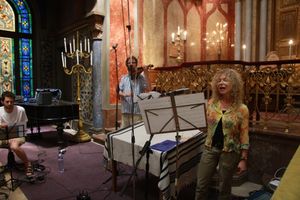 The TEAM:
Musicians: Yair Dalal, Christian Dawid, David Doruzka, Peter Gyori, Alan Hetherington,
Anwar Khurshid, Lenka Lichtenberg, Ravi Naimpally,  Zita Petrak, Tomas Reindl, Alexander Shonert, Rasto Uhrik.
Composers: Shlomo Carlebach (2), Nira Chen, Ara Dinkjian, Peter Gyori, Davis Lefkowich,
Lenka Lichtenberg (3), Benedetto Marcello, Beny Maissner, Shirona, Ivan Silver, Ben Steinberg.
Tech team:
Engineer: Derek Saxenmayer; mixing: Jim Zolis; Photography : Romana Rysava;
Artistic and graphic design: Lumir Hladik; Organizational assistance, help, guidance: Tomas Kraus;
Driver and assistant: Lukas Duchon.
Produced by L. Lichtenberg.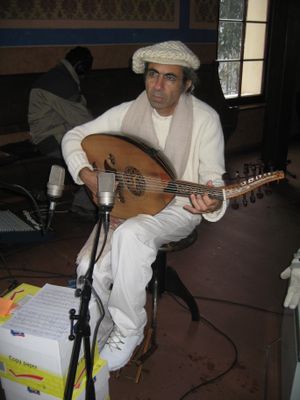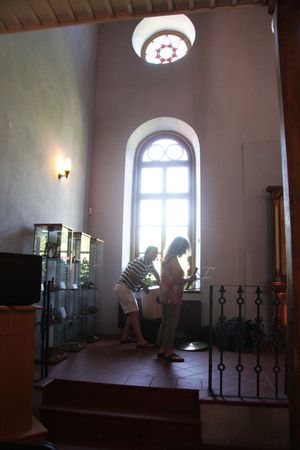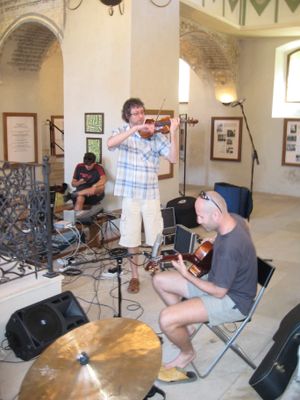 Synagogues: Liberec, Turnov, Terezin, Hartmanice, Plzen, Radnice, Boskovice, Mikulov, Brandys, Ustek, Polna, Jeruzalemska

AND NOW...THE WORK IS DONE!   Goals were reached, fundraising completed. I needed to fund-raise to complete the final stages: mastering, and design/production of the accompanying booklet  which includes a page about each synagogue, the community that built it and sustained it, and photos. My plan to give the synagogues that opened their doors for us (with the invaluable help of Tomas Kraus and the Czech Jewish Federation) a box (sometimes two) of the CDs, as a small contribution towards their upkeep, is now being carried out, in stages.… as the places themselves played equal part to the music. My vision of a concert combined with a screening of photographs of the synagogues both current and historic, honouring the disappeared communities, unfortunately turned out to be an excesively expensive idea so far,  but hopefully this will materialize in some locations: The work crew included photographer Romana Rysava, who took about 1,200 photographs, and I see those pictures as an integral part of the performance. (More can be seen in director Jaroslav Hovorka's documentary, below). Ideally, a musical performance will be combined with an exhibition of these photographs, and a simultaneous screening of Romana's and historic images on 3 screens of varying sizes…Dreams……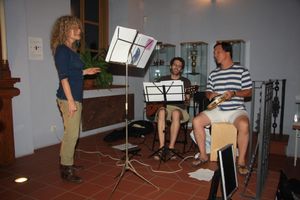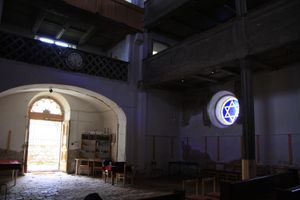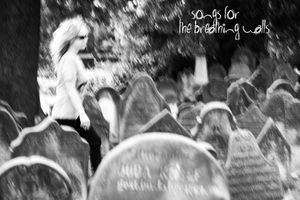 Documentary:  December 28, 2011- January 1, 2012, director Jaroslav Hovorka's documentary "Pisne ozivlych zdi" about the project was broadcast on Czech TV 1 - three times. Should anyone be interested in this 26-minute long film (which has been fitted with English subtitles), please contact me.
www.ceskatelevize.cz/ivysilani/10303172303-lenka-lichtenberg-pisne-ozivlych-zdi/